Thomas Doty – Storyteller
From My Journal – Archives<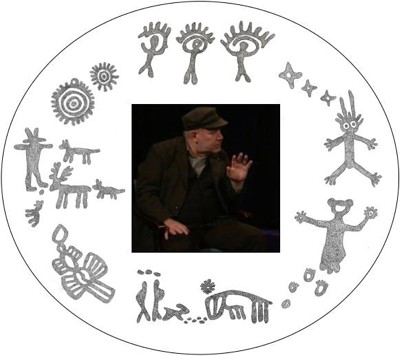 ---
Back home after sharing native stories. The night sky is crowded with stars. Owls talk in the trees, telling shiny-new tales of long ago.
In the woods after a morning rain, the trees drip. Sun breaks through and frogs start singing, some treble, some bass. Frogs like it all!
Moonlit drive over the Cascades. No Halloween ghosts in these woods. They must be in town tonight. But Old Time native spirits? Everywhere!
I watch Coyote prance. He messes with the joke: "I'm NOT out standing in my field!" He's always going somewhere, five steps ahead of himself.
I watch Heron Woman fish the Rogue River. She lets the big ones get away! She patiently waits for one that easily slides down her throat.
Oregon blazes with fall colors. I scatter leaves as I drive back roads. In this season of transitions, I feel like I'm going somewhere.
Salmon dream in the shallows. On the riverbank, folks listen to an old fisherman spin stories. The salmon wake up and continue upriver, bringing new myths to the source.
Before dawn. Through a window I watch a rainstorm. Another window: stars! Puddles in the driveway and dust down the ridge. Fall has arrived!
---