Thomas Doty – Storyteller
What's Happening!
Where I'm At, What I'm Up To
After sauntering through the autumn and early winter countryside performing and teaching native stories, I am home in Ashland, working on projects, and doing local programs. For the past few weeks, I've been a bit of a hermit, holed up in my cozy lair. I've been busy writing new stories, editing and updating older ones, and adding them to my online Library. I venture out every so often to visit native sites, sauntering in the winter sunlight, clearing my mind, and then I burrow back into my world of words. When I head out on the road again, I'll be telling my favorite native stories along with some new ones.
In the Spirit of Sharing Stories,

---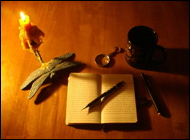 What's New on DotyCoyote.com
---