Thomas Doty – Storyteller
Cultural Resources
Welcome!
When I was a beginning storyteller I was blessed by friendships with elders. They not only shared with me their wonderful stories, but gently nudged me toward accurate source materials. Now I pass them on to anyone interested in understanding our native world.
Storytelling has been kind to me for nearly four decades. By providing these resources I hope that the newest generation of tellers find them useful as they carry our ancient art of storytelling into the future with vibrancy and integrity.
Since 1997, my website has been a labor of love, and I gift its treasures to anyone with an interest in our native world. It is through the sharing of stories that we begin to understand all of the people on our planet -- Animal People, Human People, Rock People, and so many others. We are all related! As we become lovers of stories, we become caretakers of cultural wisdom, experiencing people and landscapes that nourish and sustain us. We learn to give back. As an elder once told me, "This is a good journey."
In the Spirit of Sharing Stories,


---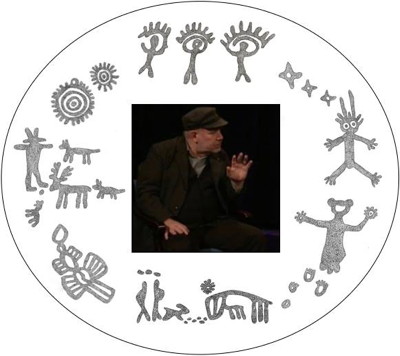 My Library is the home of my writing. This includes traditional and original native stories, poems and prose poems, essays, and a play. Library visitors can also listen to stories or read native stories in Spanish. In addition, there are excerpts from my notebooks, a literary magazine called Coyote & Friends, and a Native Archives page with links to the complete texts of accurate sources on native cultures, including the works of Edward Sapir, John Peabody Harrington, and many others. Enjoy the journey!
---
Culture – Salmon, Bear, Villages
Want to learn about the Sacred Salmon Ceremony at Ti'lomikh? Take digital tours of Old Time native villages? Explore the seasons through moon names and the mythology of Great Bear in the Sky? This is the place! Here you can also find info on the Sacred Salmon Ceremony, and Eme'tek!iyikíkh (We Are Here), a native sculpture in Ashland, Oregon.
---
In 1986, I co-founded Reading the Rocks, which I still co-direct. These pages describe our work to protect and interpret ancient rock paintings and carvings (pictographs and petroglyphs). Here are descriptions of sites with photos and drawings, and a print-friendly index of symbols. There is also a description with photos of the Medicine Rock Project, the stories behind my logo and the Native Peace Tile, rock writing maps, and news articles.
---
Photos – Family & Sacred Landscapes
Learn about my family through historic photos from our Doty Family Archives, or visually explore the sacred landscapes where many native stories take place. Here are galleries with hundreds of photos!
---
My stories align with educational standards, and are relevant across content areas. Here is an outline of CCSS in "teacher speak," with links to specific passages in writing that support key concepts.
---
Here is a print-friendly PDF flier you can share with friends and colleagues. It contains web addresses for accurate cultural resources available for free on this website. It is formatted 8½" x 11". File size is 2 MB.
---