Thomas Doty – Storyteller
---
Mapmaker Makes a New Native Map
"I want to tell of a journey that I have been making, a journey beyond all known frontiers, that speaks of possibilities rather than anything so prosaic as what we already know." -- Fra Mauro in A Mapmaker's Dream by James Cowan
* * * * *
In the shadow of Sexton Mountain, Mapmaker stands at the base of a cliff. He's got Rock Old Woman's story inside his head. As he mixes red paint from ochre in a small stone bowl, he whispers to himself....
"The Rock People -- the oldest of the Old Ones -- made the first maps. Their symbols wove landscapes and myths and history into stories. We studied those stories and put them in our memories. They lived in our oral tradition. For centuries. In the old days, we spoke a map before we traced it in the dirt. Or painted it on skins. We touched up the maps of the Rock People. Sometimes we added new stories. They looked vivid. For centuries. Then Europeans arrived with their maps. These were pictures of the land on paper with only the names of places. No stories. I like ours better. So here I am, my head filled with words, making a new map of a new story. Only a few of us know how to do this."
Using images the Old Ones would find familiar, and adding a bit of his own creativity, Mapmaker paints symbols of the story on stone. "Here's what happened," he says....
"Below where the trail comes down the mountain from the north, at the ancient creek crossing, we stretch out a leg and start on a journey. We follow the curves of the trail. Many people have made this trek. The path is well-worn. We arrive at a place where the way is blocked. Someone points ahead.
"It is rough-going, the landscape broken up. There are people ahead of us walking together. The path leads to a healing place and continues over the pass and down into the valley. Another path climbs the mountain. We arrive. We look around. The healing place on the summit is gone, all covered up. We are astonished. We make big eyes. We return by the same path."
* * * * *
Photos: Mapmaker's map of Waiting for Rock Old Woman, a map from the 1731 edition of Gulliver's Travels showing capes on the Oregon and California coast that were the last known places before journeying to the fantastic world of giants called Brobdingnag, an 1884 map of native villages in southwest Oregon, a rock painting showing a scene from a story about the sun traveling through a lava cave, a rock carving showing ravines Koomookumpts the Creator carved on the slopes of Mount Shasta allowing water to flow down and fill rivers and lakes, an ancient stone bowl for mixing paint.
---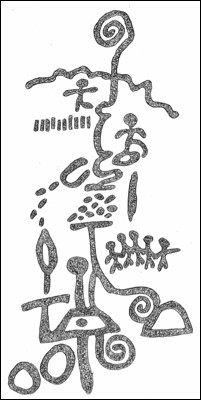 Larger Map with Key (PDF) | Text of Story
---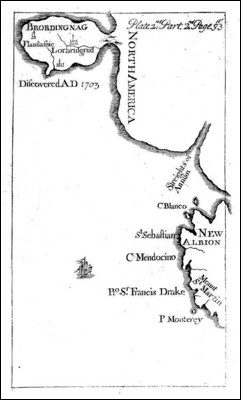 ---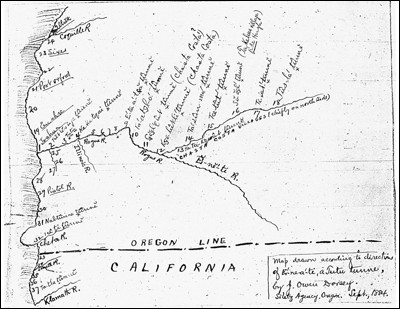 ---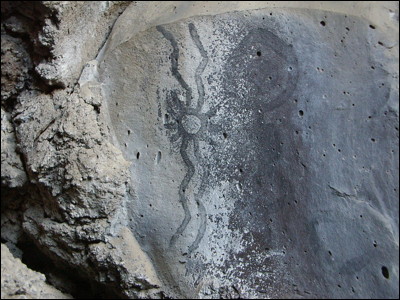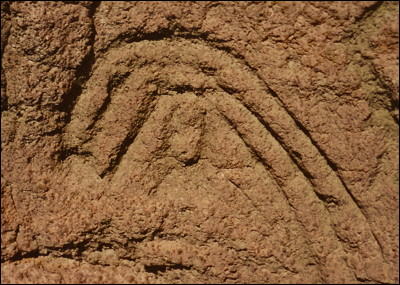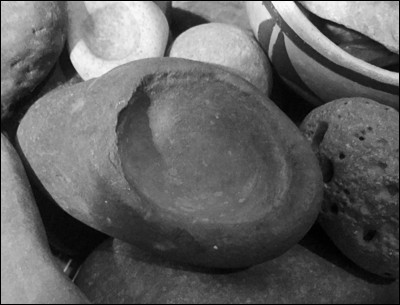 <
---