Thomas Doty – Storyteller
---
The Oracle of Gold Hill
Ben Hur Lampman settled in Gold Hill, Oregon in 1912. He lived along the Rogue River for four years while he was editor of the Gold Hill News. Though dubbed a weekly, his 500 subscribers had to be patient with his erratic publishing schedule which was often delayed a day or two while Lampman went fishing.
By 1916, his lyrical poems and essays about the river caught the attention of The Oregonian, and he was lured to Portland by an offer of a $25 per week salary. His writing career spanned decades. He was regularly published in the New York Times, Saturday Evening Post, Atlantic Monthly, Nature, Sunset, and Reader's Digest. He wrote several books, and in 1943 he won an 0. Henry Award for his short story "Blinker Was a Good Dog."
Folks in southern Oregon never forgot Lampman. They followed his career, and often referred to him as The Oracle of Gold Hill. In June of 1947, Lampman returned to Gold Hill for Ben Hur Lampman Day, a town-wide celebration. Clark Gable, who was fishing on the Rogue at the time, interrupted his trip to be in attendance. After Lampman's speech, the closing ceremony included the official naming of Ben Hur Lampman Park.
Lampman said, "Sometimes I wonder if leaving Gold Hill wasn't a mistake. There's no more beautiful place than this section of the Rogue River. And a fellow could always go fishing."
In 1951, Lampman was named Oregon Poet Laureate and held that appointment until his death in 1954. Years later, my friend William Stafford introduced me to Lampman's writing. Stafford would also become Oregon Poet Laureate. He wrote a poem called, "For Ben Hur Lampman."
In this lonely country after sundown
a big rock will stay warm
a long time. If the moon
shines that night you can see
a new version of what went on
before -- shadow and light, the long
swinging caravan. It all shines deep
inside the head, warm, cold, the world.
There is in this order for thought:
its own discovery. And that is
new every day -- sun, moon, the slow
changes of distance, time. You pick up
stories like these. You turn them
over and let them fall. Your whole life
could follow this even seeking and
leaving, warmed by such stories you find.
* * * * *
The first photo shows Lampman (on the left) spinning tales with friends in Bowers Pharmacy in Gold Hill in 1916. The second photo was taken on June 21, 1947 on Lampman's return to Gold Hill for Ben Hur Lampman Day. Left to Right: author Ernest Haycox, Oregonian general manager Mike Frey, Lampman, and Oregonian editor Philip Parrish. I wonder if he's wearing the same tie in both photos! The third photo shows Lampman's books that reside on my desk. Lampman appears as a character in a few of my stories set in the Gold Hill area. Coyote says about him, "There are worse critters than poets who like dogs."
---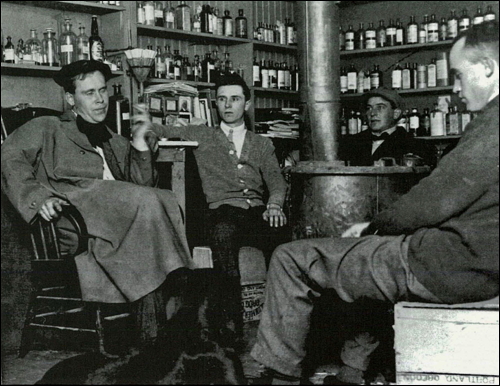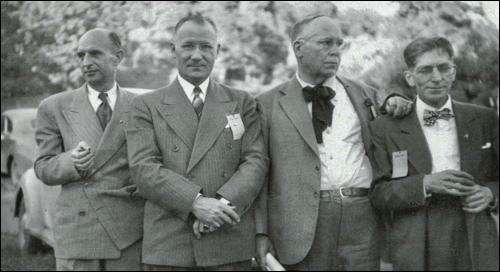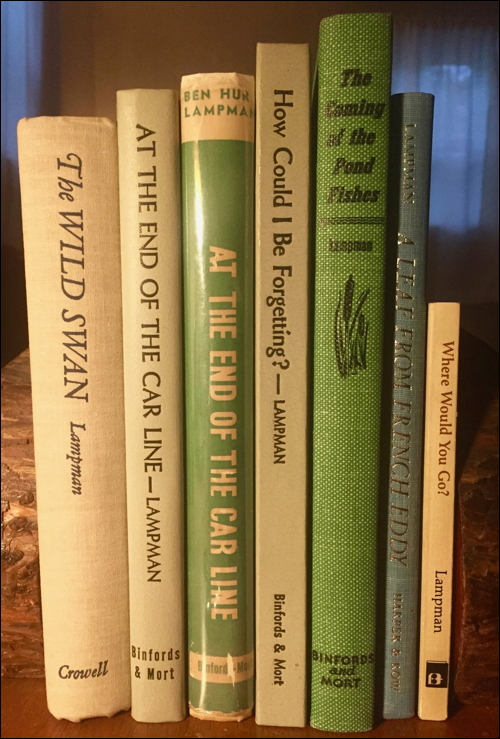 ---