Thomas Doty – Storyteller
Performances
"Thomas Doty is a cultural treasure. From the Black Hills of South Dakota, to the deserts of the Southwest, to the Oregon Country, he is the best spinner of native myths I have ever heard. And I've heard quite a few."
Dr. John Medicine Horse Kelly (Cle-alls), Haida Elder, Professor of Journalism, Carleton University, Ottawa
---
Traditional & Original Native Stories
Thomas Doty accompanies his audiences on dramatic journeys into the wondrous world of stories, landscapes and culture. Recipient of a Distinguished Lifetime Achievement Award from the national American Indian Program, he has been called "one of the best of Oregon's storytellers," "a cultural treasure," and "a master of his art."
Performances come in several presentational styles. As a traditional storytelling ... native stories as they have been shared for thousands of years. As a talk or keynote. As a house concert in a private home. Invite your friends, provide food and drink, and Thomas Doty will provide a wonderful evening of stories.
Steeped in Native American oral traditions of the West, traditional stories are woven with original native stories to provide present-day insights into ancient cultures ... a dramatic bridge between the present time and the vibrant Old Time world of Doty's native ancestors.
Thomas Doty weaves a wide-range of topics into his performances, including the healing power of stories, native world view, stories the ancient rock carvings and paintings tell, Indian and European contact.... Each performance is honed to create the perfect presentation for audience, sponsor and venue. Thomas Doty blends his storytelling skills with decades of living his art, as well as constantly exploring, researching and writing about his native culture.
Performances are available in a variety of settings ... at schools, colleges and universities, theatres, community centers, art galleries, bookstores, museums and visitor centers, libraries, churches and spiritual centers, retirement homes and private homes, parks and monuments, refuges and retreats, summer camps, fairs and festivals, and more!
In a formal theatre or a school gym, as a keynote at a conference or as a campfire telling, Thomas Doty's performances are dynamic and engaging ... and deeply rooted in native culture and homeland.
Performances are 30-90 minutes long.
Sharing Stories
When I was up north sharing stories, an Inuit elder gave me the best definition of storytelling I have ever heard. She said, "A storyteller creates the atmosphere where wisdom reveals itself." "What's that mean?" I asked. The elder said, "That's easy. Get the storyteller out of the story."
Yes! How can we share our stories with such genuineness, sensitivity, and skill that the audience walks away feeling the emotional drama of each story and the many levels of wisdom and truth, rather than simply acknowledging the personality of the storyteller?
Storytelling is all about sharing ... sharing a story that matters to you in a way that it matters to someone else. There are no limits within the heart of the ancient tradition of storytelling.

Many of the stories Doty performs are included in his latest book and eight-hour audiobook. He's happy to sign copies following a performance. Here's info....
"I pray that Tom lives for a long, long time so that generations ahead can hear these stories."
"May your path be easy. Continue telling our stories. Keep our Spirit alive."
Agnes Baker-Pilgrim (Taowhywee), Takelma Elder, Spiritual Leader, International Indigenous Grandmother
---
Stories in Education
Thomas Doty is a master storyteller. Since 1981, he has visited thousands of schools throughout the country. Doty has a variety of performances available for grades K-12. For native people, stories have been a teaching-tool-of-choice for thousands of years.
"Thomas Doty is a treasured Native American storyteller. He has the very real talent to interweave an ancient story with endless wonder and surprise while connecting both the story and the characters with today. When he tells the story, he becomes the character described and the audience is transported to that moment and place."
Gary Albright, Director, Tillamook County Pioneer Museum
---
From the Elders
Many of the traditional stories Thomas Doty shares in his performances were passed along to him by native elders in his family and in the larger native community. Here are profiles of three elders who inspired Doty....
Grandma Maude. "My grandmother Maude Daugherty was our family storyteller. It was from her that I first heard many of our local native stories. When I was a boy, Grandma would gather us children around the pot-bellied stove and tell us stories. She was a large woman and didn't move around much. But she had a wonderfully rich voice, and different voices for animals in the stories. And her hands were so expressive that they invited stories into the room. They became our friends. Though Grandma journeyed into the next world when I was nine years old, I have never forgotten her stories. And I hear her voices -- all of them -- inside my own stories."
Gwisgwashan (Frances Johnson). "I discovered Gwisgwashan's amazing repertoire of our Takelma stories through conversations with her great niece, my friend Agnes Baker-Pilgrim, and through the works of linguists Edward Sapir and John Peabody Harrington. Gwisgwashan was born in 1835 in her family village in southern Oregon and walked the Takelma Trail of Tears to the Siletz Reservation in 1856. She was the last fluent speaker of our native language. She died in 1934, at age 99. Her Takelma name means Chipmunk Face."
Chuck Jackson. "I first met met Cow Creek elder Chuck Jackson through my friend John Medicine Horse Kelly in the early 1980s. He lived on his family's traditional native land and carried in his head most of what had survived of Cow Creek and Takelma culture. The three of us sat for hours sharing stories. We talked about the mythology (Daldal, Coyote, Bear) and places (Ti'lomikh, the Table Rocks, the Bear Rock and the cave where Hapkemnas the creator lives). He told us stories of the arrival of Europeans and amazing stories of healing and transformation."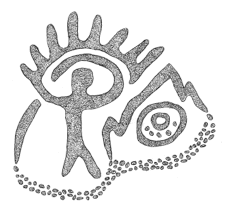 ---
---