Thomas Doty – Storyteller
School Programs
"Having watched you perform in schools, I can attest to the value of your work with students. You excite and amaze and make learning a fascinating adventure. I've spent my career in education, have started and directed 3 schools, have a Ph.D. in education administration. I think your work is profoundly enriching and recommend you to all schools."
Dr. Bea Davis, Educator, Portland, OR
Performances
Stories in Education
Since 1981, master native storyteller Thomas Doty has visited thousands of schools throughout the country. Doty has a variety of performances available for grades K-12. For native people, stories have been a teaching-tool-of-choice for thousands of years.
Education is naturally built into native stories, the core of Doty's art. Storytelling is the way native people have been learning about themselves for centuries.
In his performances, Thomas Doty can include specific traditional and original native stories to compliment what you're teaching in the classroom, across content areas. For example, stories of the Sacred Salmon Ceremony for a class engaged in a Salmon Watch Unit. Or stories of Indian and European contact for Social Studies classes. Or stories that emphasize cultural traditions for classes studying local and regional native people. There are many possibilities.
Thomas Doty's performances dramatize native wisdoms and teachings in ways that profoundly connect students to themselves and each other, as well as to cultural traditions.
What Students & Educators Say
"Mr. Doty's presentation was very powerful. He taught us a side of history which is generally not taught."
"Mr. Doty is a storyteller, but he makes the story stay with you for the rest of your life."
"He actually reached into his story, he was so passionate. For some reason it didn't feel like he was telling a story, it felt like he was the story."
8th Grade Students, Cascade Middle School, Eugene, OR
---
"We came back to class and my kids were soooo excited about your stories. They loved them and the way you told them. I was able to then make a connection with their stories they are writing. These kinds of experiences are so good for our kids, and I just wanted to make sure you knew how much we appreciated you."
5th Grade Teacher, Three Rivers School, Sunriver, OR
---
"The classes sat completely enraptured and were absolutely mesmerized by your storytelling. The program was more than what we had expected it to be. We hope to see you again."
3rd Grade Teaching Team, Maple Grove Primary School, Battle Ground, WA
---
"Today our class met a storyteller. Clearly it was awesome."
"First, he made funny faces in the stories. Next, he made funny voices in the stories. Last, he told three stories. All and all, he was the best storyteller ever!"
"He had a good character voice. The stories were amazing and we are going to do it all week. I can't wait to hear more stories."
1st Grade Students, Crestview Heights School, Waldport, OR
Workshops
Hands-On & Innovative
Stories & Songs (Grades K-2. Length is 30-45 minutes.) Doty uses hands-on activities to give young students rich experiences of Old Time stories and songs, and insights into native cultural traditions.
The Importance of Stories (Grades 3-12. Length is 45-60 minutes.) Students learn how stories are the heart of native cultures. Stories entertain, they teach, they heal. Even during the dark years in their histories, native people have kept their stories alive. Students experience oral tradition by telling a traditional story with Doty that is passed along to them orally.
The Art of Storytelling – Basic Skills (Grades 3-12. Length is 45-60 minutes per session.) Students actively learn the skills of storytelling and oral presentation, including voice, movement, gestures.... Emphasis is placed on sharing, connecting to your audience, inviting them into your story. In multiple sessions -- great for residencies -- students expand their skills and create their own stories as a path to discovering their unique performance styles ... journeying yet deeper into this ancient art.
The Art of Storytelling – Advanced Skills (Grades 3-12. Length is 45-60 minutes per session.) This is a vigorous and intensive storytelling experience for students who have expressed interest or demonstrated skill in the performance arts. Available as a single session or a sequence of sessions.
Reading the Rock Writings (Grades 3-12. Length is 60 minutes per session.) Stories and messages carved and painted on the rocks are simply another form of storytelling and native literature. In the first session, Doty has participants act out short stories with gestures and movements based on rock writing symbols. A fun and active way to learn the concepts of the images. In a second session, students create their own stories using traditional and original symbols.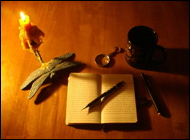 Residencies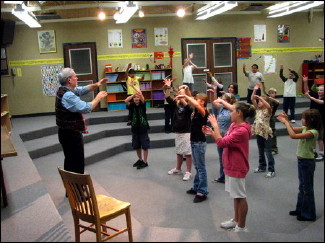 Stories from Homeland & Home
In his school residencies, Thomas Doty shares stories from his native homeland of southern Oregon and northern California ... and students create and tell stories from their home.
Doty demonstrates his own storytelling style as a performance model, and then guides students on non-competitive journeys, encouraging students to discover their own unique styles of telling their own stories.
Throughout a residency, students learn about native cultures as well as actively participate in the ancient art of storytelling. Residencies are a blend of performances and workshops.
Thomas Doty has residencies available for grades K-12. They are a minimum of five days long, with several 30-60 minute sessions per day. Residencies can include evening programs and staff in-services.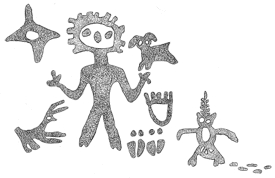 Learn from a Master! Thomas Doty spent nearly two decades as a Master Teacher in the Arts in Education program where he was praised for his innovative, hands-on teaching methods. Doty has been Native Storyteller in Residence in communities throughout the West, including schools and universities, museums and theatres, Indian tribes, national parks and monuments.
Thomas Doty's stories align with educational standards, and are relevant across content areas. Here is an outline of CCSS in "teacher speak," with links to specific passages in Doty's writing that support key concepts.
---
---