Thomas Doty – Storyteller
Ti'lomikh – Native Village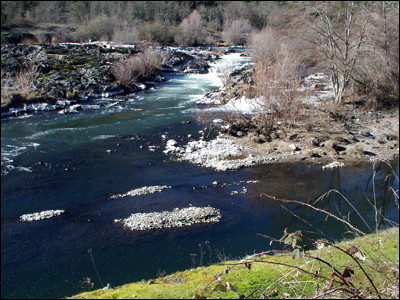 The Ti'lomikh Project
---
Welcome!
Since I was a child I have been visiting the ancient Takelma village site of Ti'lomikh. And since 1981, when I began work as a native storyteller, I have been researching the lore and history of Ti'lomikh. This has been an adventure as well as a long and often challenging journey. Much of what is known is buried in reams of linguistic texts, unpublished field notes, back rooms of museums and in the memories of elders. And my own memories of conversations with relations who are no longer with us.
The purpose of this project is to bring all of this information together on this web page. Enjoy!

---
The Ti'lomikh Project was funded by the Robert M. Stafrin Fund of the Oregon Community Foundation.
---
To use this page, click on a title to show the text in that section. Click on the title again to hide it. Refresh the page to close all sections.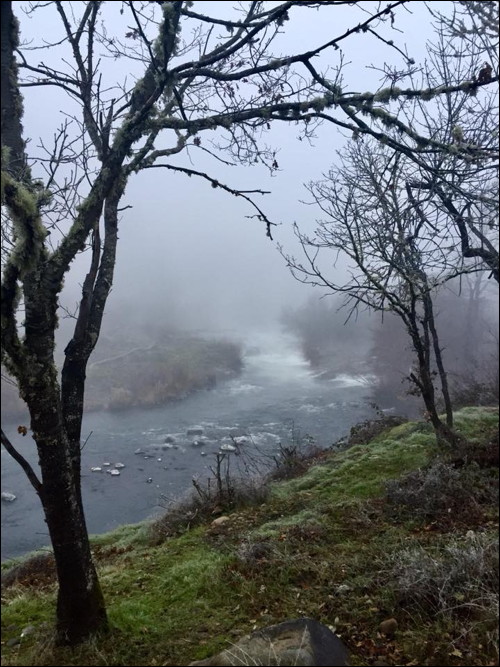 A New Native Story
---
All Night Salmon Leap the Falls: Doty and Coyote meet the spirit of the poet called Lampman in an old house in the woods. The three of them walk back through time to participate in the Sacred Salmon Ceremony at Ti'lomikh, an ancient village along the Rogue River.
---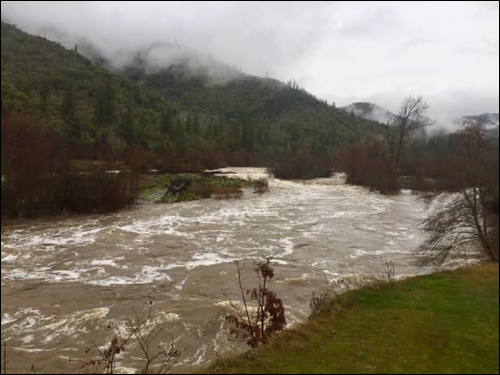 During storms, the Rogue River at Ti'lomikh is roguish. Somewhere under the roiling river is Ti'lomikh Falls and the Story Chair, getting scoured and cleaned and ready for the spring salmon run.

Salmon Nation Radio
---
Agnes Baker-Pilgrim, Stephen Kiesling and Thomas Doty were interviewed at Ti'lomikh by Alex Chadwick and Katie Davis, veterans of public radio. They tell the story of finding the Story Chair, a crucial part of the Sacred Salmon Ceremony.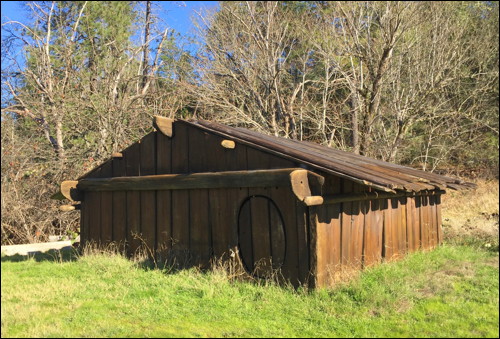 The winter lodges at Ti'lomikh would have looked much like this one. Inside, the floor is about two feet below ground level, with a firepit in the center, and sitting and sleeping ledges around the edges. This replica was built by Gray Eagle in honor of Takelma elder Agnes Baker-Pilgrim, and is located at the Kerbyville Museum in Kerby, Oregon.
Here's a video of Takelma elder Agnes Baker Pilgrim describing the lodge: Takelma Pit House.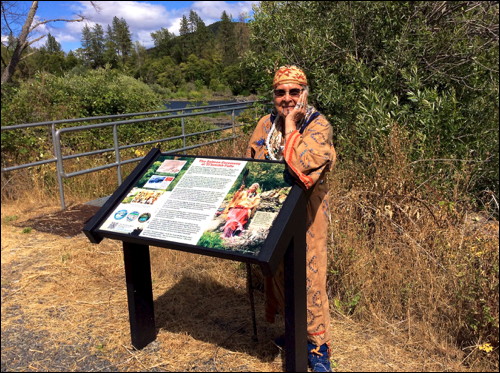 Takelma elder Agnes Baker-Pilgrim at Ti'lomikh in 2014.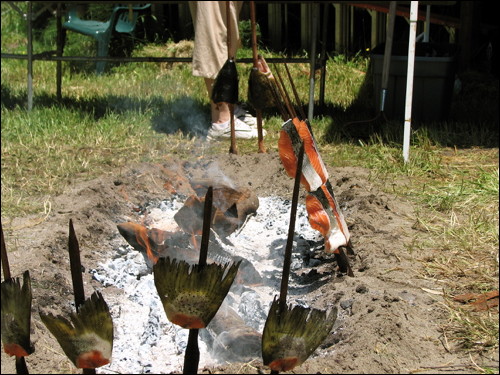 Salmon baking at the Sacred Salmon Ceremony at Ti'lomikh, 2007.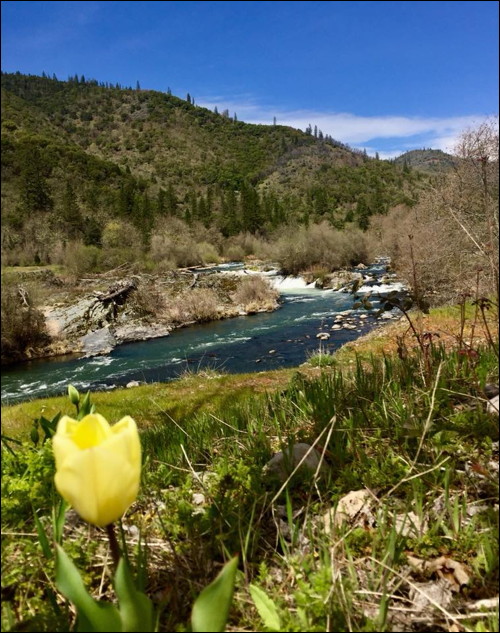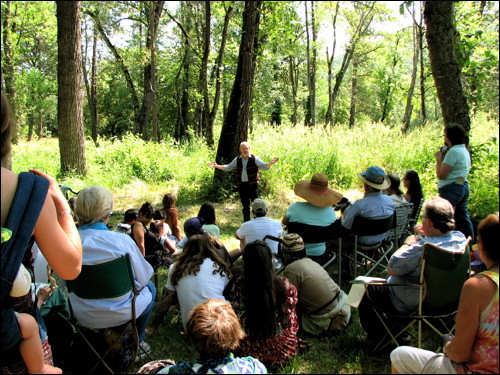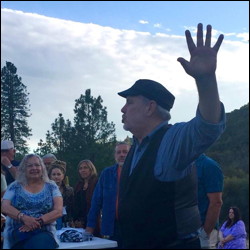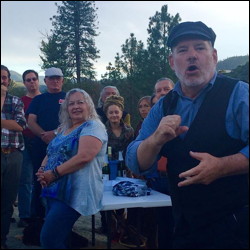 Thomas Doty telling native stories at the Sacred Salmon Ceremony in 2007, and at the First Nations Day Celebration in 2016.
---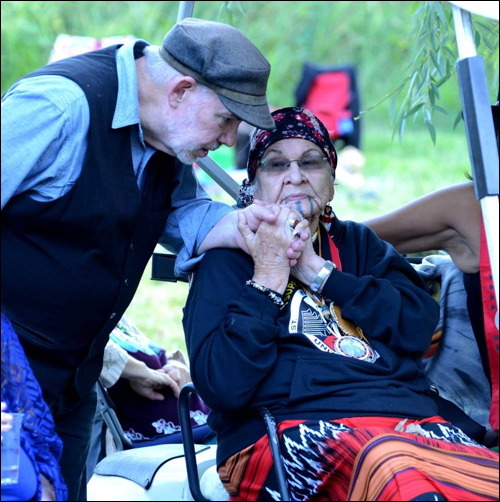 Thomas Doty and Takelma elder Agnes Baker Pilgrim at Ti'lomikh in 2019 for Grandma Aggie's 95th Birthday Party.
---
Ti'lomikh in 1918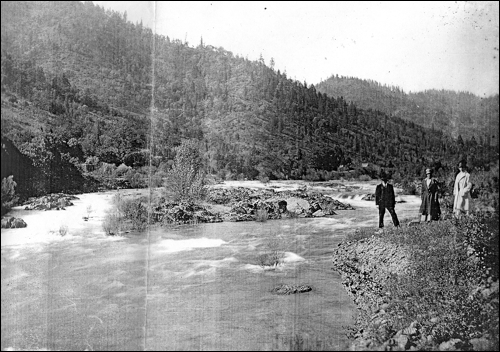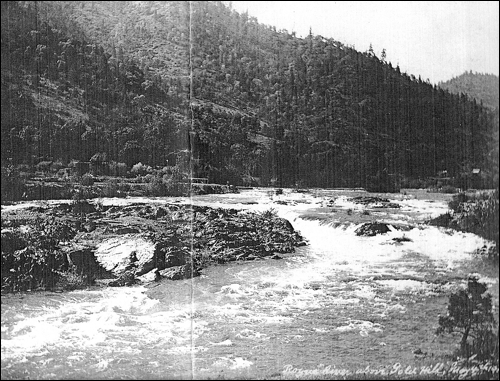 ---