Thomas Doty – Storyteller
Agnes Pilgrim Legacy Fund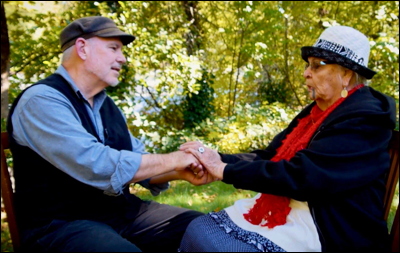 Donate | Agnes Pilgrim Legacy Fund | Refresh
Rippling It Out
Takelma elder Agnes Baker Pilgrim was a beautiful soul. Her presence, her unstoppable spirit and her teachings deeply touched thousands all over the world. Southern Oregon was her home, and the homeland of her people.
For over 35 years Grandma Aggie was a dear friend and my teacher. We worked together on the Sacred Salmon Ceremony at Ti'lomikh and, most recently, with Tish McFadden on her Upriver to Morning project. Grandma Aggie passed away in 2019 at the age of 95.
The Agnes Pilgrim Legacy Fund is administered by Julie Norman and distributed to individiuals and organizations who are actively spreading Grandma's teachings. Rippling it out with love was how Grandma Aggie lived her life. She said to me so many times, "Now you take these stories and ripple them out. Keep our Spirit alive!"
I feel honored to do just that. Agnes Baker Pilgrim inspired many of the stories in Coyote's Trading Post. Downloading and sharing them gets the stories out there and supports the ancient tradition of native storytelling. Aggie loved stories! When you make a donation to support free cultural resources on this website, 5% is gifted to the Fund. This assists those who are working to keep Grandma Aggie's legacy alive and thriving.
Thank you!
In the Spirit of Sharing Stories,


---