Thomas Doty – Storyteller
Camp Latgawa (1 of 5)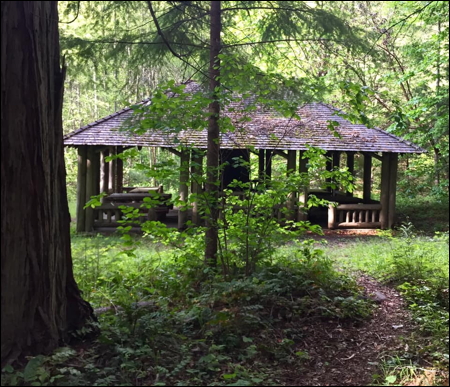 ---
Camp Latgawa is an organizational camp in the Cascade Mountains of southern Oregon. Located along Dead Indian Creek and South Fork Little Butte Creek, the camp and the Takelma winter solstice site above nearby Deer Creek, is the setting for Thomas Doty's story, Latgawa. These photos were taken in May, 2019.
---
Related Pages
Latgawa – In December, Doty takes a five day trek to a winter solstice site in the Cascade Mountains. As he struggles with his desire to live a spiritual life, and the "messy business of the real world getting in the way," his journey becomes a personal vision quest as he is visited by several stories, and, of course, Mister Coyote.
Deer Creek – Photos of a Takelma winter solstice site.
Deer Creek Cairns – A Takelma winter solstice and vision quest site in the foothills of the Cascade Mountains.
---