Thomas Doty – Storyteller
Nancy Bloom Interviews Tish & Thomas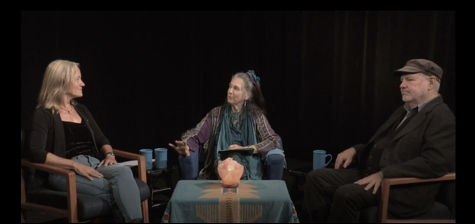 ---
Life Passages: The Soul's Journey
Author and educator Tish McFadden brings forth local Takelma elder Agnes Baker Pilgrim's core teachings in her book and education program, Upriver to Morning: A Journey to Wisdom. Tish is joined by renowned native storyteller, Thomas Doty, who serves as cultural consultant, website consultant, editor, and audiobook voice talent for the project.
To honor Grandma Aggie's plea to "ripple out" her teachings, Tish created "a book for all ages and all people." Grandma Aggie blessed and endorsed this project.
Hosted by Nancy Bloom, the first two interviews were filmed in the RVTV studios at Southern Oregon University in July of 2019. The third interview was filmed in February, 2020, three months after Grandma Aggie's passing, and is a tribute to her.
Story, Culture and Landscape (28:55)
The story is set along the Rogue River in the native landscape of the Takelma Indians of southwestern Oregon. From seaside beaches to riverine woodlands, interior valleys, the Table Rocks, river gorges, and ultimately to alpine springs, the story is rooted in universal life lessons that can deepen our capacity for compassion, our sense of belonging, and our connection to nature.
Common to folktales from diverse cultures, the animal and earth element characters in Upriver to Morning possess identifiable personalities that we care about, laugh about, fear, and admire. Throughout the narrative, and woven into the adventures, we uncover ancient Takelma teachings that convey universal wisdom for all ages.
Story, Education, and Outreach (28:32)
In 2016, what started out as Tish's idea for an illustrated children's book has taken its own journey to become much more. With contributions from many dedicated professionals, the resulting book manuscript, in English and Spanish, has expanded into a comprehensive educational program providing authentic content for Common Core mandated curriculum across the grade levels.
Upriver to Morning infuses our children with the rich cultural history of the Takelma People through music, theater, art, writing, and stories in and outside of the classroom. By learning about the ways of southern Oregon's local indigenous people, students will become more connected with the earth, and with each other, moving us all toward a sustainable future.
Grandma Agnes Baker Pilgrim's River of Life (28:25)
Takelma elder Grandma Aggie passed away in November, 2019. This interview with Tish and Thomas is a tribute to her.
---