Thomas Doty – Storyteller
News: Doty in WA School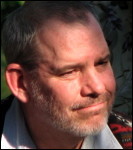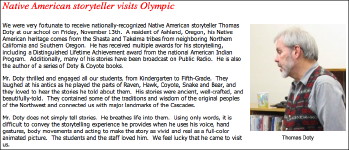 ---
Native American storyteller visits Olympic
We were very fortunate to receive nationally-recognized Native American storyteller Thomas Doty at our school on Friday, November 13th. A resident of Ashland, Oregon, his Native American heritage comes from the Shasta and Takelma tribes from neighboring Northern California and Southern Oregon. He has received multiple awards for his storytelling, including a Distinguished Lifetime Achievement award from the national American Indian Program. Additionally, many of his stories have been broadcast on Public Radio. He is also the author of a series of Doty & Coyote books.
Mr. Doty thrilled and engaged all our students, from Kindergarten to Fifth-Grade. They laughed at his antics as he played the parts of Raven, Hawk, Coyote, Snake and Bear, and they loved to hear the stories he told about them. His stories were ancient, well-crafted, and beautifully-told. They contained some of the traditions and wisdom of the original peoples of the Northwest and connected us with major landmarks of the Cascades.
Mr. Doty does not simply tell stories. He breathes life into them. Using only words, it is difficult to convey the storytelling experience he provides when he uses his voice, hand gestures, body movements and acting to make the story as vivid and real as a full-color animated picture. The students and staff loved him. We feel lucky that he came to visit us.
---