Thomas Doty – Storyteller
Performances
"Thomas Doty is a cultural treasure. From the Black Hills of South Dakota, to the deserts of the Southwest, to the Oregon Country, he is the best spinner of native myths I have ever heard. And I've heard quite a few."
Dr. John M.H. Kelly, Skidegate Haida Elder, Adjunct Research Professor, Carleton University, Ottawa
Traditional & Original Native Stories
In his performances, Thomas Doty accompanies his audiences on wondrous journeys into the world of native stories, landscapes and culture. Recipient of a Distinguished Lifetime Achievement Award from the national American Indian Program, he has been called "one of the best of Oregon's storytellers," "a cultural treasure," and "a master of his art."
Performances are available in diverse presentational styles, from dramatic tellings to talks to keynotes.
Steeped in Native American oral traditions of the West, traditional stories are woven with original native stories to provide present-day insights into ancient cultures ... a dramatic bridge between the present time and the vibrant Old Time world of Doty's native ancestors.
Doty's performances are uniquely native. He uses ancient storytelling skills to share stories with modern audiences. Gestures have their origins in Indian sign language and rock writing symbols. Graceful movements emerge from primal dances and create a visual map of each story. Facial expressions mirror the moods of mythic masks. Distinctive voices of Animal People and Human People echo from the Old Time to now.
Thomas Doty weaves a wide-range of topics into his performances, including the healing power of stories, native world view, stories the ancient rock carvings and paintings tell, Indian and European contact.... Each performance is honed to create the perfect presentation for audience, sponsor and venue. Thomas Doty blends his storytelling skills with decades of living his art, as well as constantly exploring, researching and writing about his native culture.
Performances are available for a variety of settings ... at schools, colleges and universities, theatres, community centers, art galleries, bookstores, museums and libraries, churches and spiritual centers, retirement homes and private homes, parks and monuments, refuges and retreats.
In a formal theatre or around a campfire, in a school gym or a conference hall, Thomas Doty's performances are dynamic and engaging ... and deeply rooted in native culture and homeland.
---
Performance Descriptions
Stories from the Native West: A dramatic presentation of traditional and original native stories. Thomas Doty's performance is a mythic tapestry celebrating Animal People, Human People and all of their relations. Sacred places and cultural traditions that are centuries-old are still vibrant in the ancient art of native storytelling.
Upriver Downriver: In native stories of the West, there are two directions: upriver and downriver. Characters journey upriver toward the rising sun, toward creation, and the beginning of the river. They travel downriver toward the setting sun, the Land of the Dead and the river's end. To native people, the river is the lifeblood of the Great Animal that is the World.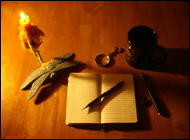 Stories the Rock People Tell: The Rock People are the first storytellers. We find their stories carved and painted on the rocks. These are the earliest "published" literature of native people. This performance explores what the symbols mean, and how they go together to create stories and deepen mythology.
Coyote, Columbus & Beeson: This performance begins in the Old Time when stories are new, and then explodes into Indian-White contact time. Doty's presentation contrasts Native American and European world views, sheds light on the removal of native people from their homelands, and tells the story of John Beeson, Oregon's first human rights activist during the Rogue River War of the 1850s. A powerful blend of cultural loss and hope for what's coming.
Upriver to Morning: This is a co-presentation with author and musician Tish McFadden. Thomas tells traditional native stories of the Rogue River, and Tish sings new native songs and shares excerpts from her book, Upriver to Morning. This is an original Rogue River story based on the universal teachings of Takelma elder Agnes Baker Pilgrim. Here's more info: Upriver to Morning.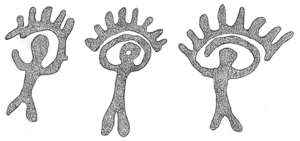 "Thomas Doty is a treasured native storyteller. He has the very real talent to interweave an ancient story with endless wonder and surprise while connecting both the story and the characters with today. When he tells the story, he becomes the character described and the audience is transported to that moment and place."
Gary Albright, Director, Tillamook County Pioneer Museum
---
"I pray that Tom lives for a long, long time so that generations ahead can hear these stories."
"May your path be easy. Continue telling our stories. Keep our Spirit alive."
Agnes Baker-Pilgrim (Taowhywee), Takelma Elder, Spiritual Leader, International Indigenous Grandmother
---
"Thomas Doty delivers native stories in the style of the ancient ones; full of myth and magic, truth and humor. With his rich voicing of characters and hand gestures, you are taken along with him into every tale."
Tish McFadden, Musician, Composer, Founder and Director of Rum Tum Music, Author of Upriver to Morning.
---
---